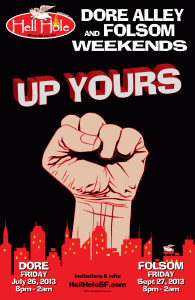 Up Yours™ is a special event social hosted and produced by the Shockwave Kollektiv as a benefit for the Handball Academy.
Up Yours™ social happens twice yearly on the Fridays before Up Your Alley Fair (a.k.a. Dore Alley) and Folsom Street Fair weekends. Both events focus on male sexuality and are safer-sex, drug-free affairs.
The schedule for the UP YOURS  socials is as follows
Up Yours on Friday, July25 (Dore) and
Up Yours on Friday, September 19, 2014 (Folsom Weekend).
For more information about UP YOURS™, please click the graphic.